Emerson Small was born March 10th, 2014. She came into the world after a completely normal pregnancy and birth. Emerson was perfectly breathtaking with her blonde hair, beautiful blue eyes, and unique personality. Within the first hour of her life, medical personnel discovered Emerson had a cleft palate and a foot deformity, which the doctors believed was related to some sort of syndrome, leaving her family with more questions than answers.
Three months later, it was confirmed that Emerson has a very rare genetic disorder. She has a duplication of the 16th chromosome, and a deletion of the 20th chromosome. This combination is so rare, there has not even been any scientific research on it yet.
Emerson spent the first month of life in the NICU at Gundersen. She has undergone 18 surg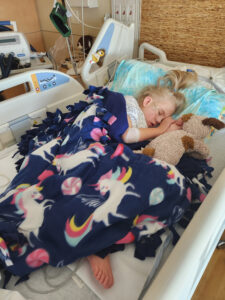 eries and procedures, has significant hearing loss and vision issues. At just four months old she was diagnosed with seizures, which have evolved into a severe form of epilepsy. Emerson has mobility challenges, relies on the use of a walker, or wheelchair, and has developmental delays.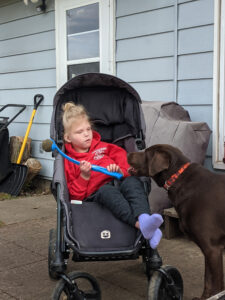 9-year-old Emerson attends school at West Salem Elementary School, where she is adored by students and teachers alike. Her sister Kaylea is 16, and Remi the Chocolate Lab is her best her best bud and protector! Emerson enjoys camping, swimming, cupcakes, and the music of Johnny Cash.
Emerson's Mom (Kristen) is a registered Nurse and Dad (Ty) works as a Tire Service Technician at TSS and is a volunteer firefighter. Their family lives in Bangor. Emerson's family wish is simple and will make a huge impact on their quality of life. Emerson needs a specialty bed, designed specifically for her by Beds by George, to keep her safe. Knowing Emerson can sleep without the chance of getting injured during a seizure or becoming entrapped will give her family the gift of rest and overall peace of mind.