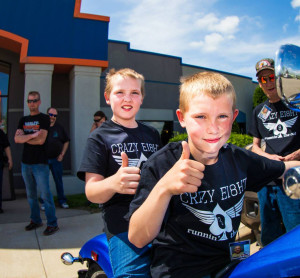 On Saturday, May 16th, we rode for 12 year old Donovan Johnson of Arcadia. In January 2013, Donovan complained of stomach pain, wasn't eating and was very tired. In May he was diagnosed with a Desmoplastic Small Round Cell tumor (a very aggressive and rare cancer that primarily occurs in the abdomen). The prognosis was not very good and he had his first surgery on his 10th birthday. He spent a month at Mayo before heading to Madison where he underwent a procedure that had not been performed on a child before. "Hot chemo" was placed in his abdomen and he was medically sedated for 7 days. Donovan has since completed over a year of very regular and intense chemotherapy and radiation. Clearly Donovan is one strong and special child. His last MRI looked good but close monitoring is necessary. His Mom, Karen says it has been agonizing on the family and they just keep praying.
During all of this, Donovan's twin brother Damien has been right by his side, staying at the hospital most of the time. Both boys are in 6th grade at Arcadia Middle School. Donovan is into sports of all sorts and loves to be outside. He is very easy to get along with and of course, like all boys his age, enjoys video games. He is also doing very well in school considering he missed a year and half. He is one tough child that never gives up!
Donovan would LOVE to take his Mom, his constant sidekick Damien, and his other brothers and sisters to Soak City Water and Amusement Park in Ohio! There was a long period of time when Donovan couldn't swim or enjoy the "thrills" life had to offer and he's ready to go NOW!